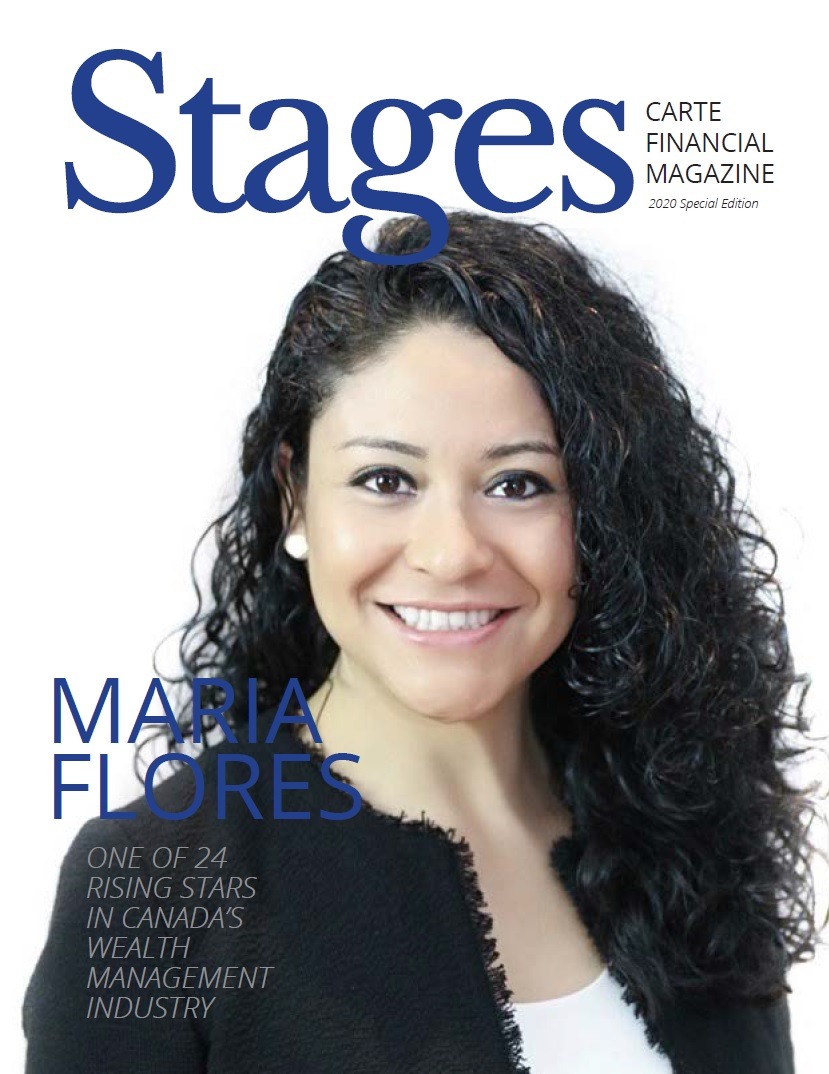 We're proud that Maria José Flores, who is an integral member of our senior management team, here at Carte Wealth Management Inc., was recently celebrated in an issue of Wealth Professional's magazine as one of 24 Rising Stars in Canada's wealth management industry. Congratulations, Maria!
I spoke with Maria last week to chat about her journey from her parents' shoe factory in Ecuador to becoming a senior manager at Carte Wealth Management Inc. Here's what Maria had to say about her experience at Carte and the future of wealth management.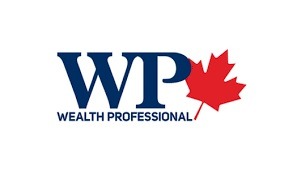 Click Here To Read The Full Article
How has your experience been at Carte Wealth Management so far?
It actually started way back in 2007, when a classmate at Humber College helped me find the job. I had just relocated to Canada in the middle of an eCommerce degree in Ecuador. My dad's immigration papers had finally come through and I seized the opportunity to immigrate. We were taking ESL classes together. My friend was working as a Carte advisor at that time, and she recommended I do my co-op placement there.
It was hard at first. I didn't speak English when I moved. I'm normally a very bubbly person, outgoing and sociable, but it didn't show during that period of time I was learning the English language. After my co-op placement at Carte, I didn't have any expectations of being hired full-time, but Kirk Purai gave me a job making photocopies and archiving. He saw that I was taking initiative and encouraged me to think about joining the company. So I got my licenses and that was the beginning of my career at Carte.
My first job was as an advisor at Carte when they needed someone to take care of 300 orphan clients. I took these clients on without knowing how to run a book of business! Kirk stepped in and taught me about the markets, clients, and how to run meetings. Under Kirk's mentorship and with the help of my colleague, Virginia Matos, I learned how to make decisions regarding my clients' future plans, investments, where to invest, and when to buy and sell. This first gig was not an easy task, as there were a lot of problems with the book that needed to be addressed. I spent a lot of days working from morning to midnight getting things in order.
After 12 years with Carte, I'm now responsible for all Carte advisors. My responsibilities include recruiting, training, motivating, and dealing with advisors' issues and questions. This is currently a big part of my daily activities. Additionally, I am responsible for a large number of special projects at Carte. These projects currently include, but are not limited to, taking Carte Wealth Management Inc., to a level 4 dealer and developing a nominee platform complete with necessary systems.
My responsibilities also include the role of Chief Compliance Officer for Carte. As part of this function, I make sure that policies and procedures are in place so advisors can run their practices within the rules and regulations.
My task is to give advisors the tools and frameworks to make compliant decisions that work for their clients and the industry in which we work.
How has your accounting experience in Ecuador shaped your current practice as a wealth management advisor?
Since I was a kid in Ecuador, I have always liked numbers. My mom and dad were good with money. Every time my mom gave me an allowance for school, I saved it. It was only $5 or $10 but I never spent it. I also remember the early signs that I would become an entrepreneur. Back home, my family used to owned a shoe factory (Calzado Suarez-Flores). My older brother and I used to re-sell the clothes and shoes we didn't wear. We knew the day that the factory workers were paid, and we knew that meant they would have disposable cash. So we sold our items to them and I kept track of their payments in a notebook.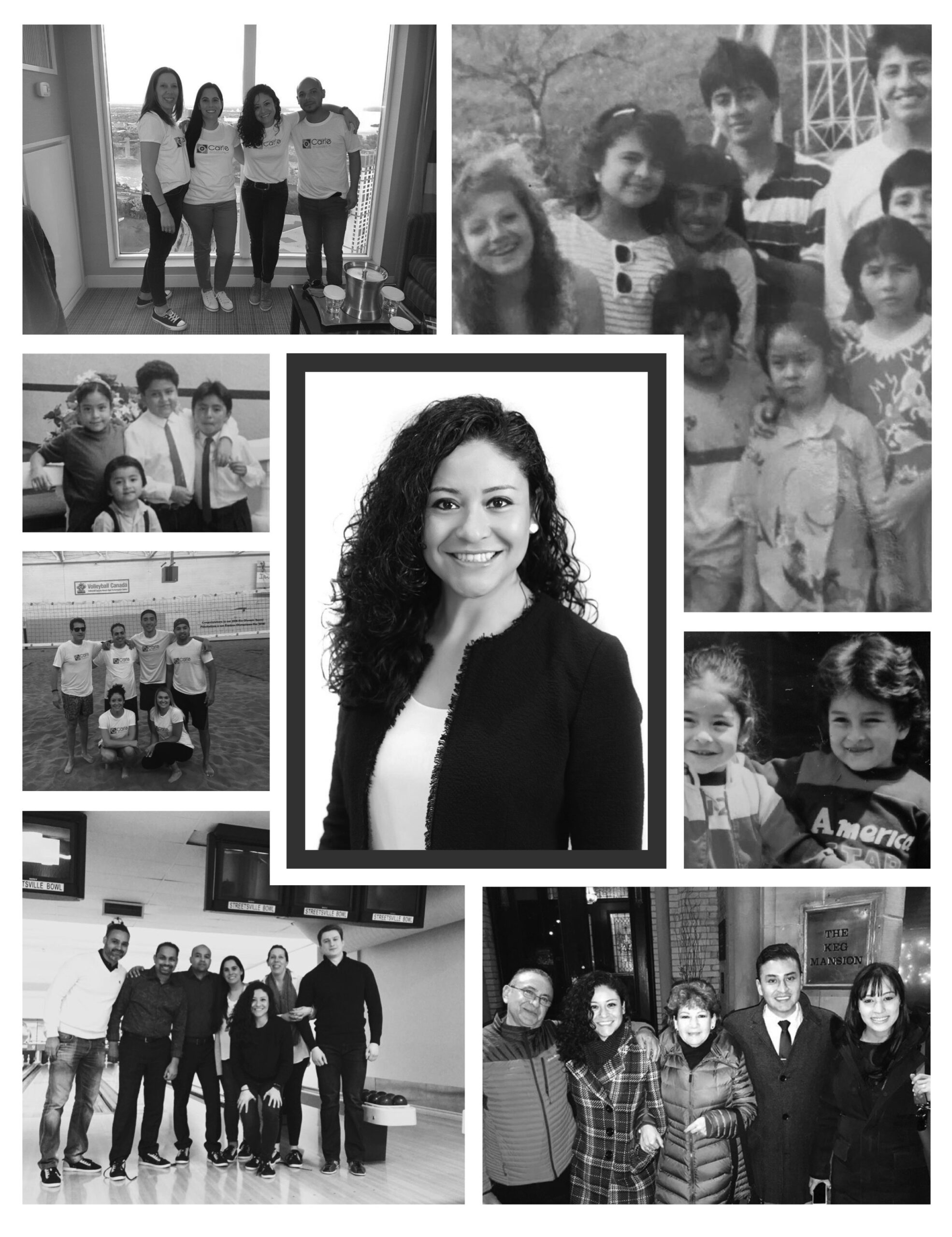 Another time, someone robbed my mom's safe with cash from the factory's sales. At this time, my father was already living in Canada. My brother and I pooled our saved allowances and gave it all to our mom. She was able to pay the employees and carry on doing business until she could self-fund the store. It taught me to always be cautious with your funds.
I first fell in love with accounting in high school when I saw how helpful a financial analysis could be to a business owner. After I did my first accounting courses, we looked over the family books and realized that my mom was buying material to make shoes but it was somehow disappearing without being fully accounted for. I offered to do the inventory for her. One of my accounting teachers helped, and she brought the whole class over and they conducted the financial analysis onsite in an hour and a half. I loved it!
How do you instill ethical and thoughtful practices in new advisors?
I tell advisors that they shouldn't think of themselves as salespeople. In their business, they are building relationships. Clients are trusting you with their life's savings, with family secrets, and with their worries. Learn how to listen. Nobody will trust you with their savings from the get-go. Offer to connect. Say, "Let me show you what I'm seeing." Be transparent and have their best interests at heart. As long as they put their client first, it will have a domino effect. I tell my advisors to put their clients first, and since my advisors are my clients, I put them first.
At Carte, we run compliance training every month. In these sessions I bring cases and scenarios to help advisors explore new regulations, compliance matters, and learn how to protect their business during the pandemic. Every month I teach my advisors to embrace, not hate, compliance. It's a combination of education and roleplaying. I tell my personal story. I've been an advisor and I know what it's like. I've rushed and submitted bad paperwork and had to drive all the way back to the client. It makes you feel incompetent. I grew my career from the ground up by being humble. I teach advisors how to use
technology so they don't face the same problems.
Are there any mentors or experiences that have deeply shaped your career?
Virginia Matos has taught me a lot. She always believed in my work, and always encouraged me to believe in myself. More than a mentor, Virginia has been an angel. She has really helped me to be confident in my abilities. English is my second language so I'm always learning. I know my own limitations. But I also know that every day I'm getting better and better. Virginia is the angel in the background, pushing me and giving me opportunities, putting in a good word with other people.
Kirk is my #1 mentor, and he's an exceptional human being. Together with the rest of our team, we run a clean dealer. Compliance is our forte. When you ask who Kirk Purai is in this industry, nobody can say anything bad about him. It's nice to work with someone like that, who always puts himself second. Kirk never put a cap on my growth. I took his advice and people have seen the results! I remember one advisor who had been with us for years, who told Kirk, 'I don't know what you're doing with Maria or what you see in her.' But when the Rising Stars article came out last week, he was the first one to call me.
I also want to thank Sandra Kegie, who used to run the Federation of Mutual Funds. Sandra tells people things in black and white without sugar-coating things. She inspired me to speak up if I'm not in agreement with something. Sandra also taught me not to be afraid of regulators. Regulators are human beings, and our role is just to teach them that advisors have valuable insight because we're the ones in front of the client.
What are your goals for the future?
Carte has been the #1 independent dealer in 2019 and 2020 in Canada. My goal is to keep it as #1 in 2021 and for years to come. I want Carte to become known for its people. If you ask our advisors, Carte is family. Carte is family to me. Other compliance officers ask me, 'Do you know
all of the advisors?' The answer is yes. Why? Because I want to! Because they matter to me!
Personally, I'm one of the youngest CCOs in an industry that doesn't have a lot of representation. I want to continue to join professional associations to pave the way for other advisors to follow in my footsteps. I am also interested in teaching kids about finance so that the next generation doesn't have to struggle with the same challenges that we faced.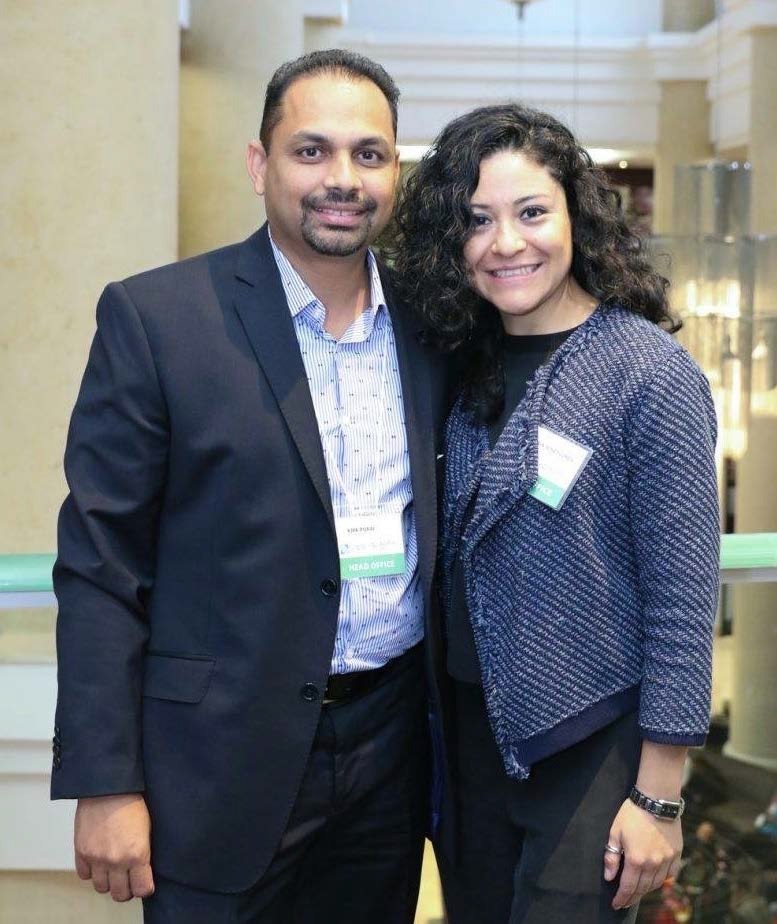 I spoke with Kirk Purai about your career at Carte, and he had great things to say about you:
"I have always been amazed at Maria's abilities. I have given her one challenge after another and she has always risen to meet each challenge. Maria started at a low-end clerical job and has earned her way up to the senior management position she holds now. Maria is a competent, trusted member of the Carte team. When she is assigned a task, I know it will be done right and on time – Congratulations Maria!"